Best Apps for Crypto Trading: Smartphones vs. Computers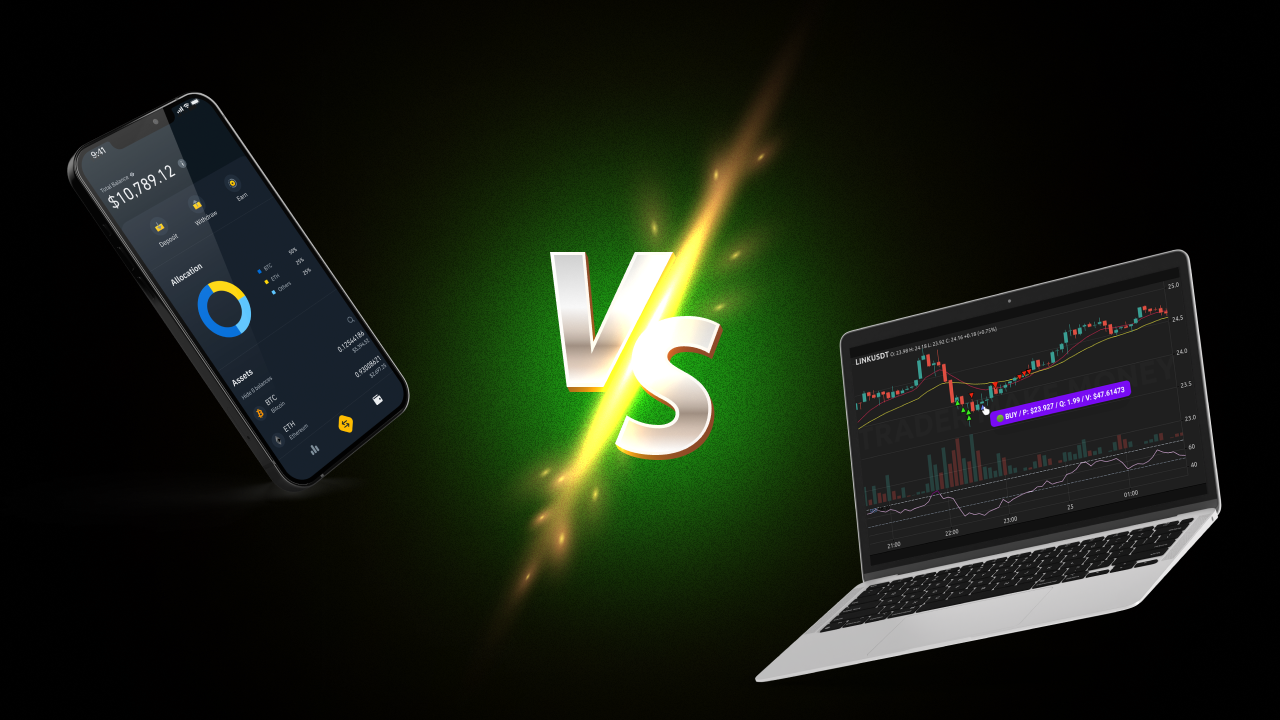 Picking the best apps for crypto trading, when to use them, and which device to use them on could be difficult, especially if you're new to the world of cryptocurrency. For inexperienced traders, this sort of dilemma is quite unimportant. However, that one-second difference in reaction time is significant for more experienced crypto traders. Some traders never make a trade until they are seated in front of their computers and have reviewed the charts. Others like to use their mobile devices to make rapid trading decisions.
Still, there are advantages and disadvantages to utilizing different cryptocurrency trading apps on a computer vs. a smartphone. Making the most of each option will save you time, money, and effort.
If you're just entering a crypto trading, we recommend to start from this guide: How to Get Into Crypto Trading – CORRECTLY
Smartphones vs. Computers
I. Screen Size
How easily you can visualize and make sense of charts is directly proportional to the screen size of your device. A smartphone's very tiny screen might make it easy to misunderstand what's being displayed on the device. For example, a candlestick may seem smaller on the screen, causing you to miss out on a possible move in the market. On the other hand, the larger screen of a computer allows for a more accurate assessment to be made since the charts can be seen more clearly without the constraints of a smaller display.
II. Distractions
Smartphones provide a lightning-fast connection to the rest of the world. Maintaining your concentration when there are so many different applications and things to engage with is next to impossible. Trading with a phone not only exposes you to the internal distractions that come from the phone itself, but also exposes you to the exterior distractions that arise from the mobility of the phone. When you utilize trading apps for crypto on your computer, on the other hand, it is much simpler to keep distractions at bay.
III. Feature Limitation
In order to accommodate the reduced processing power and storage capacity of mobile devices, brokers frequently remove key features of apps to trade crypto. When you trade on your smartphone, your chart analysis will suffer; you won't have access to crucial tools. Because of this, your trades will become less exact, and the quality of your trade entrances and exits may deteriorate as a result.
Using Apps to Trade Crypto on a Smartphone
Obviously, trading assets on a smartphone is a bad idea. Professionals know how to use their handheld devices as backups and supplements. Generally, you should only trade crypto using your phone when:
Monitoring Trades
When you have already entered a position, monitoring it with an app for crypto trading is a terrific idea. When you are away from your desktop station, you should take a phone with you and continue to monitor trades, news, and breakouts. You will have the ability to react immediately in any situation, regardless of which way things are going wild.
Your Computer Malfunctions
When it's impossible to use a computer, the most natural course of action is to use the best apps for crypto trading on your mobile device. You won't be totally cut off from your trading account, and you'll be able to react quickly to changing market conditions by basing your decisions on breaking news.
Exiting a Position
Here's a scenario: You enter a position, but you need to go out, away from your PC. If you're looking for the right time to exit the position, trading on your mobile device is another situation in which it makes sense to do so. This may be useful for traders who simply set stop losses but do not also establish profit objectives.
Best Apps for Trading Crypto
Bitstamp
The Bitstamp app allows users to trade crypto using a risk-free, prompt, and simple method. Using this app's straightforward user interface, you can make investments and trade digital assets while you're on the move. Deposit or withdrawal methods supported by Bitstamp include: Single Euro Payments Area (SEPA), credit cards, wire transfers, and peer-to-peer crypto trading are supported by Bitstamp as deposit or withdrawal methods. Bitstamp is one of the first cryptocurrency exchanges still operational to this day. It serves the needs of millions of cryptocurrency traders all around the world thanks to its established track record. It provides human support around the clock, which is very helpful for people who are not very knowledgeable about technology.
Trust Wallet
It's a non-custodial crypto wallet, which gives you complete control over your crypto holdings. The app is completely free. The code used for the development of Trust Wallet is open-source, which is why it is trusted by many crypto companies, including Binance. It supports over a million crypto assets, including NFTs. You can even stake your crypto inside the app. You can also interact with other web3 or blockchain applications because the Trust Wallet also comes with a dApp browser.
Coinmama
It allows traders to purchase cryptocurrencies using their bank accounts. In simple terms, you can deposit cash to purchase cryptocurrency. Because they do not facilitate the actual trading of cryptocurrencies on their website, some people do not consider Coinmama to be an exchange. At the moment, it only functions as a gateway through which individuals may purchase cryptocurrencies using their bank accounts. Since its inception in 2013, the website has steadily acquired a solid standing within the realm of cryptocurrency enthusiasts. Although they are owned by New Bit Enterprises, which has its headquarters in Israel, Coinmama is registered in Slovakia. Additionally, the app supports 226 countries, plus 23 American states.
CoinGecko
It is widely acknowledged that CoinGecko is the most reliable source for data-driven analysis in the cryptocurrency industry. It gives you the ability to monitor the data of a massive number of assets, as well as their trading volumes, social analytics, and market capitalizations. Due to the fact that it is an independent company, CoinGecko is able to maintain its status as a reputable source of information. The company offers live market data that is objective and does not have any motive to favor one cryptocurrency over another. Prices are exceptionally cheap, making it accessible to traders of all experience levels. If you're completely new to the cryptoverse, the knowledge that is provided to you through the free account will be more than sufficient to help you improve your trading. Although these accounts are still affordably priced, pro traders might find it beneficial to upgrade to a premium or premium plus account because of the additional benefits and features those accounts provide.
FTX (Formerly Blockfolio)
FTX is widely used for tracking crypto portfolios. It's considered one of the greatest trackers and monitoring apps for crypto trading. It allows users to monitor their holdings across all supported exchanges. FTX provides a solution to a very fundamental issue that crypto traders face. It allows you to track thousands of digital assets from hundreds of exchanges or wallets, saving you the trouble of signing into each one separately. The application also comes with a news aggregator that displays the most recent news from the most prominent media sources. If you're going to search for the "best app to trade crypto on Reddit", FTX will definitely appear on the list.
Kraken
Kraken is ranked as one of the most secure and simplest cryptocurrency exchanges to use.
Explore: How to Protect Your Crypto from Intruders
It is also one of the best commission-free trading apps out there. They offer outstanding services to convert fiat currencies from various countries. Plus, it features different deposit and withdrawal options. As a result, they are making significant advances in other regions all over the globe. Kraken is now available for purchase in the majority of countries throughout the globe, with the exception of sanctioned nations. Users can also stake and earn from their crypto assets by gaining staking incentives of up to 23%. The application can be used on the web or downloaded as a trading application.
TraderMake.Money (TMM)
When compared to other crypto trading diaries, TraderMake.Money's intuitive design and powerful analytics make it far more useful. As a result of consistent feature updates and usability, the app easily became a favorite among cryptocurrency traders despite its relatively young age.
The trading journal website has a number of useful features, one of which is a Summary page that contains an analytics dashboard that can be fully customized. In this section, you have the ability to add more than 60 different kinds of filters and widgets. Some examples of these are stats, calendars, trading charts, and numeric widgets.
TMM also provides its members with a Telegram-Chatbot to receive updates on their orders, trades, and profits; view trading reports; and discuss trading experiences with other users.
JOIN TMM FOR FREE
If you would like to get more useful tips on how to use a trading journal effectively explore our guidance.
---
Conclusion
There is a plethora of competition for the title of the greatest mobile and web applications in the world of cryptocurrency. However, it is entirely dependent on the qualities you need to prioritize. There are sites that provide useful instructions and are designed specifically for novice crypto traders. There are some programs that offer more extensive capabilities, which may assist even institutional and professional traders.
Compare a few different choices and check the app's list of assets before you register and subscribe to a cryptocurrency app. Use a free practice crypto trading app to measure your preparedness in the harsh world of crypto trading. Also, check the supported crypto assets on the trading app before buying a subscription. Determine if the app is downloadable or supported by your country's government regulations. Lastly, know the costs involved to ensure that the transaction and payment-type fees will not be too expensive for the volume of trade that you intend to engage in.