What Is ByBit? A Full Guide for a Beginner Crypto Trader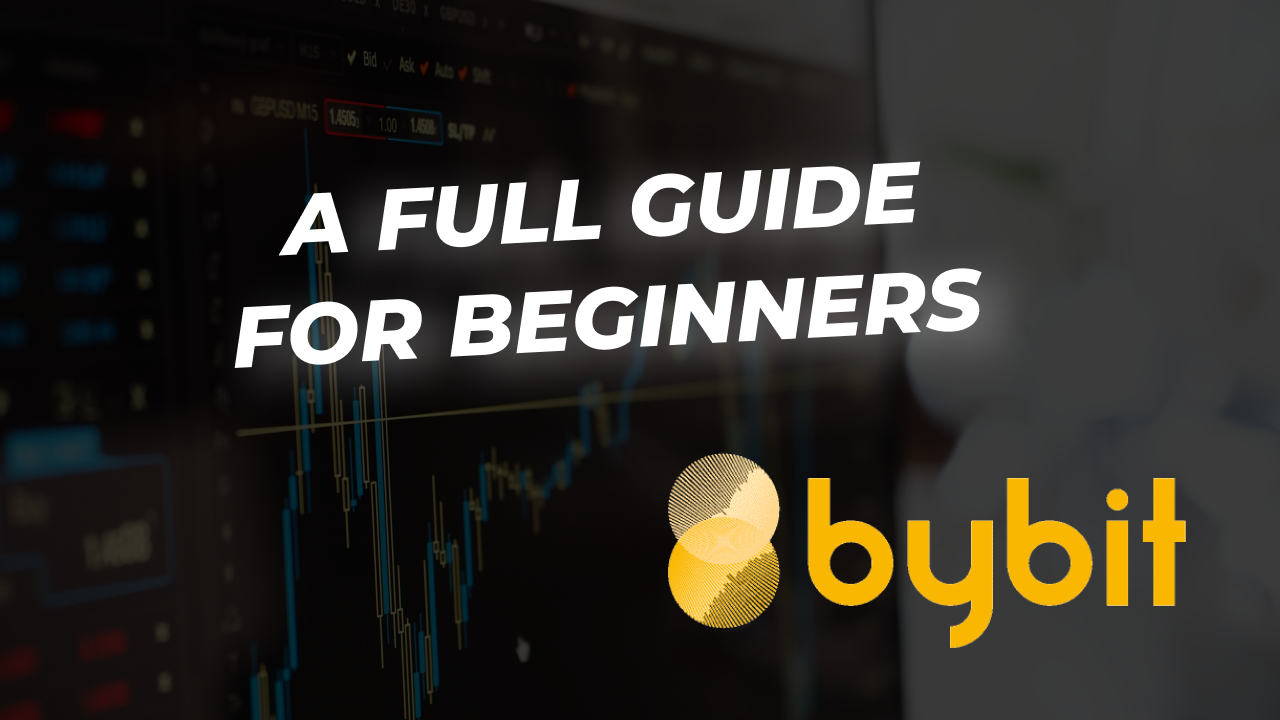 We would like to talk about the ByBit exchange, its markets, commissions and how to trade on ByBit in this article.
ByBit was founded in 2018, and today it is among the TOP-5 exchanges by daily trading volume in the derivatives market (according to CoinMarketCap). Where is ByBit located? The headquarters is in Singapore. The team of the founders consists of blockchain, forex and investment professionals.
There are spot trading, inverse and USDT futures accessible to ByBit users. But trading perpetual derivative contracts for cryptocurrencies is the main ByBit specialization.
The ByBit website has a multilingual interface, what makes it available worldwide (moreover, there are a support service speaking different languages). Also, ByBit has the ability to trade through a demo account.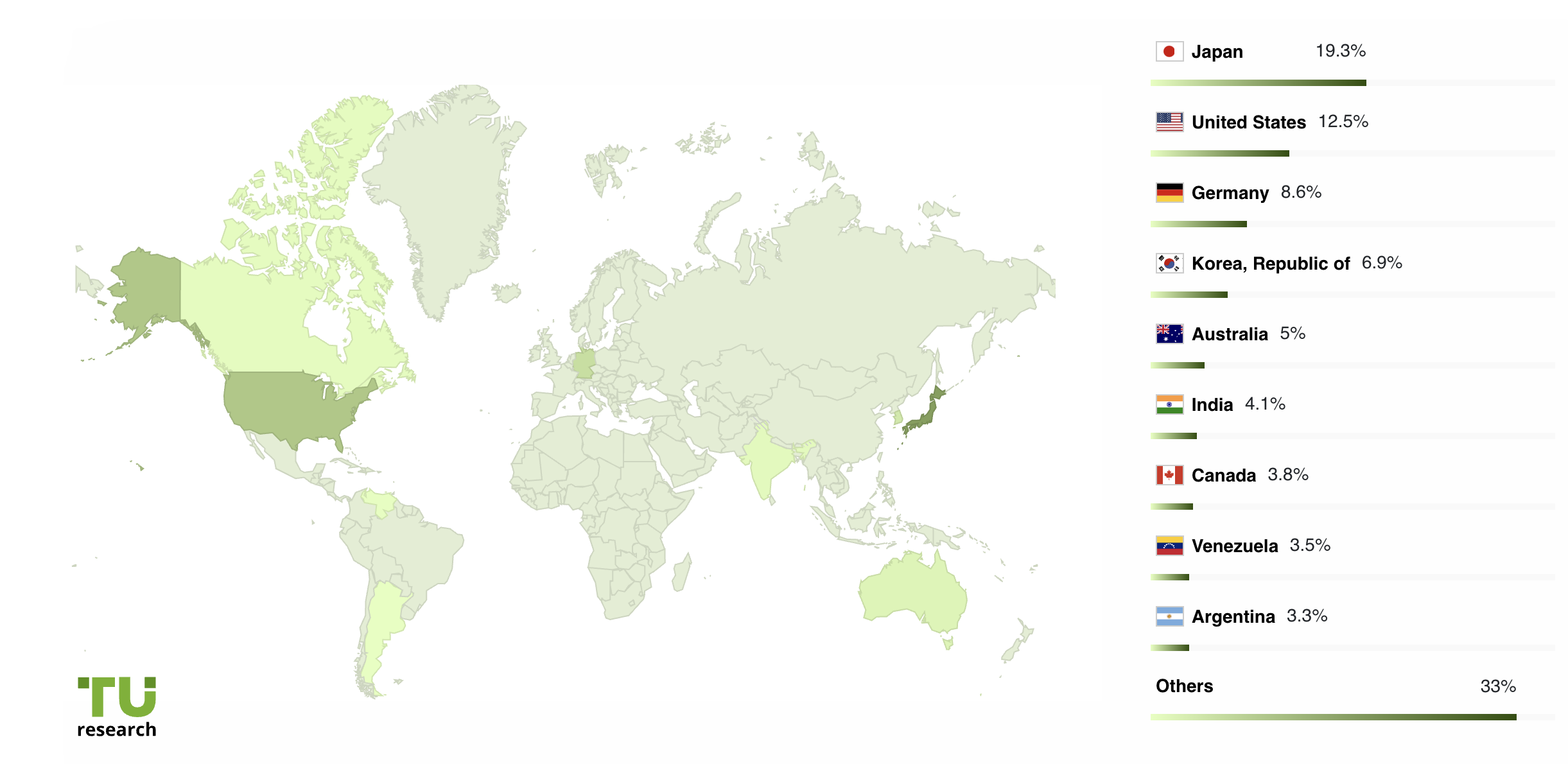 ByBit Markets: Scalping Tools or What Can You Trade On ByBit
On the ByBit, there is a spot market, a market for perpetual and quarterly inverse futures, USDT futures. We gonna tell you more about each of them.
Spot
On the ByBit spot market, there are over 30 assets paired with USDT for trading, including BTC, ETH, XRP, DOGE, etc. There are market, limit and conditional orders. Maker and taker commission on the Spot is 0,01%.
Inverse futures
Perpetual and inverse futures are featured on ByBit. Perpetual contracts are of primary interest to scalpers. BTCUSD, ETHUSD, EOSUSD, XRPUSD, DOTUSD are available instruments for trading futures.
When trading inverse futures, there is no funding fee: traders do not pay or receive funding fees while holding a position. Inverse contracts are quoted in USD but settled in the underlying asset.
Inverse perpetual futures trading is possible in cross-margin and isolated margin mode. Leverage - from 1x to 100x. The maker's commission in the inverse futures market is -0.025%, the taker's commission is 0.075%.
USDT perpetual
ByBit ones are classic perpetual futures. There are more than 40 trading tools on the perpetual futures market. Leverage from 1x to 50x is available for trading long (long) and short (short). Trading is possible in cross-margin and isolated margin mode. Maker's commission -0.025%, taker's - 0.075%.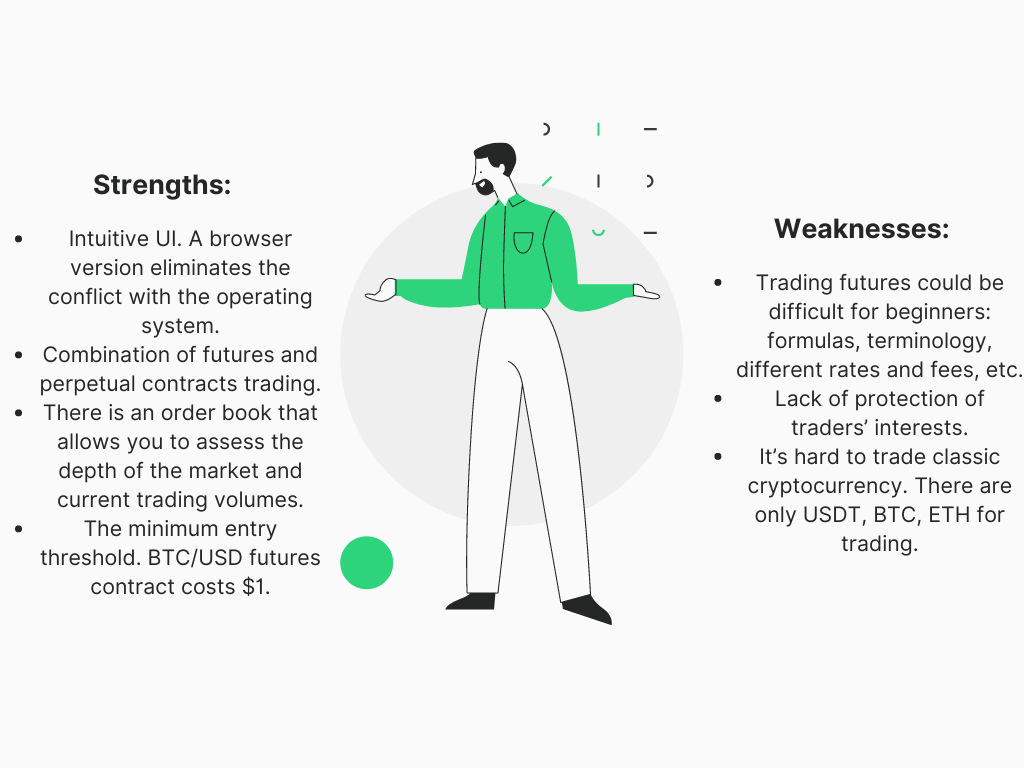 ByBit Review: Is ByBit a Scam?
It's a rather popular question. And the answer is "No". Traders are generally positive about ByBit. Users from different countries declare loyal trading terms and high speed of execution of transactions. High order liquidity is what you need for scalping.
How to Create An Account on ByBit and Get a Referral Bonus
I. Before creating an account
ByBit account is created by e-mail or phone number. When registering by e-mail, make sure that you have not already created one with this e-mail address.
NOTE! If you have already had a ByBit login for a specific e-mail, then it is no longer possible to receive a bonus on this account. We recommend opening a new account to a different e-mail. But try not to use a brand-new email (which you're never gonna check again), cause ByBit will send you important information.
II. Create an account using the ByBit referral code
Registering on the ByBit using our referral link, you will receive $20 bonus in BTC equivalent. To receive the bonus, you must make a first deposit of at least 0.02 BTC. The bonus will be credited to your account within 24 hours. To register on ByBit using our referral link, click the "ByBit Bonus" button 👇
ByBit Bonus

You can register by e-mail or mobile phone number. Pay attention, that the exchange will not allow using a simple password. You need a strong password to keep safe your money.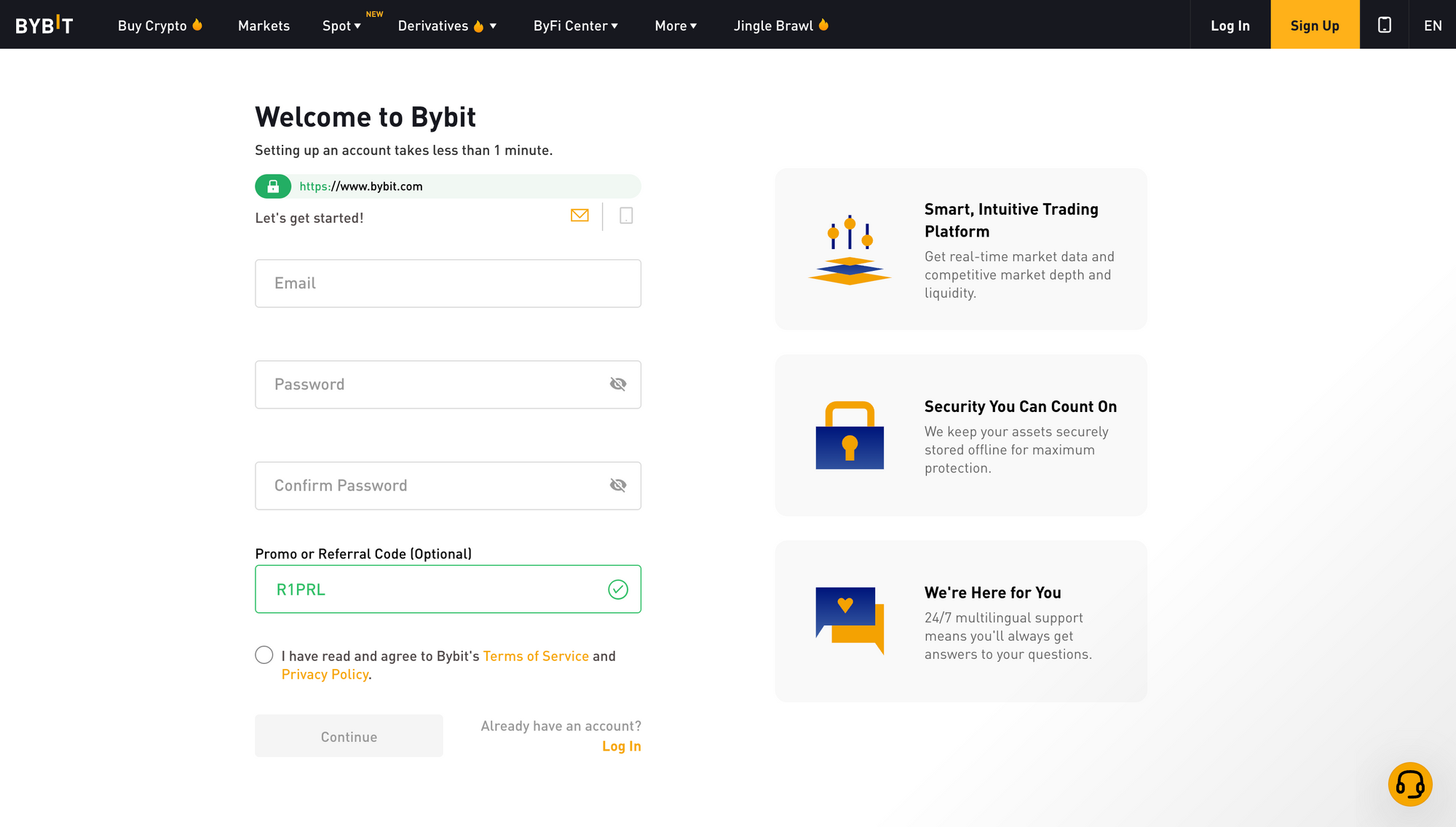 Click on the "SIGN UP" button. Enter all the above-mentioned data and "CONTINUE". Congratulations, registration completed successfully!
To confirm the activation of the referral bonus, a corresponding icon will be displayed opposite the "Referral program" tab.
III. Two-factor authentication

We also recommend enabling two-factor authentication. There are two available options:
SMS confirmation;
Google authentication.
To set up two-factor authentication, go through the icon of your personal account on the "Account and Security" tab.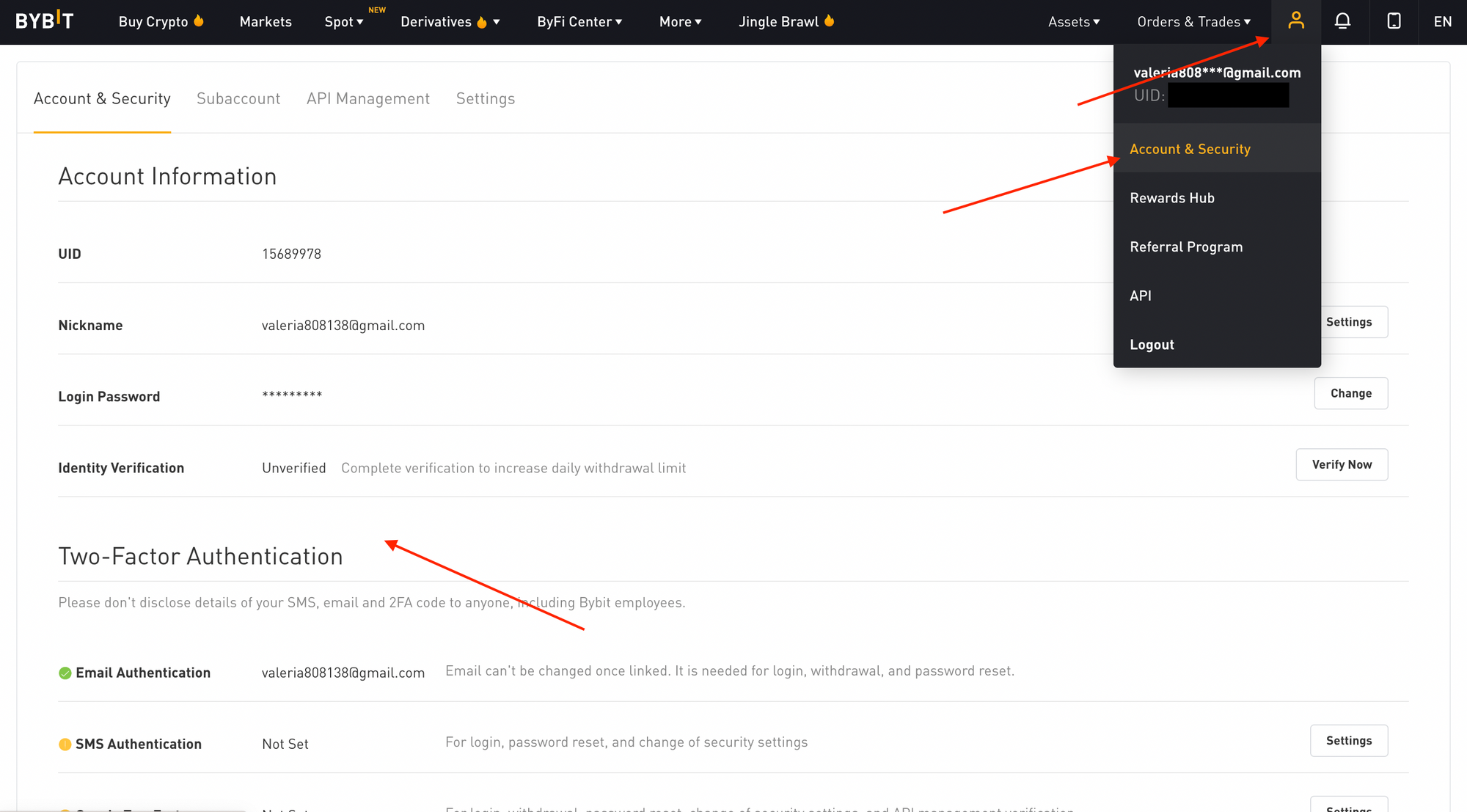 Congratulations! You have opened an account with ByBit and received a welcome ByBit referal bonus.
IV. ByBit trading useful tip
There is only one simple rule (and one tool 😉). You need to control yourself, your strategy and risks! Because the main mistake of most traders is a lack of self-control, discipline and risk control. And the better tool to help you is a trading journal, especially, the automated one. It saves your time and money. Our tradermake.money journal is the best helper to start your successful trader's career. And the coolest part is that it's free.
Create your free account
ByBit Commissions: Overview, Referral Bonuses
How much are ByBit fees? The exchange has some of the lowest trading fees in the cryptocurrency market. They are calculated using the Maker / Taker system (just like most exchanges). A specific commission rate is set for each market. Let's talk about ByBit's trading commissions and how to withdraw from ByBit.
ByBit trading fees
ByBit fees work on a Maker / Taker system. On the spot, 0.1% fee is set for all currency pairs for makers and takers.
In the USDT futures and inverse futures market, the maker's fee is -0.025%, the taker's one is 0.075%. Takers traditionally pay more because they "take" liquidity from the order book.
ByBit withdrawal fees
Buying cryptocurrency on the ByBit is only possible through third-party services. ByBit partners with Paxful, Banxa, Moonpay, Mercuryo and Simplex. The cost of buying a cryptocurrency and the commission depends on the specific service and the current market situation.
Withdrawing funds from ByBit is possible to crypto wallets or other exchanges, such as Binance. ByBit withdrawal fee depends on the specific asset. You can explore more on the official ByBit website at Help center. There is even a huge table with standard miner fees (find here for more).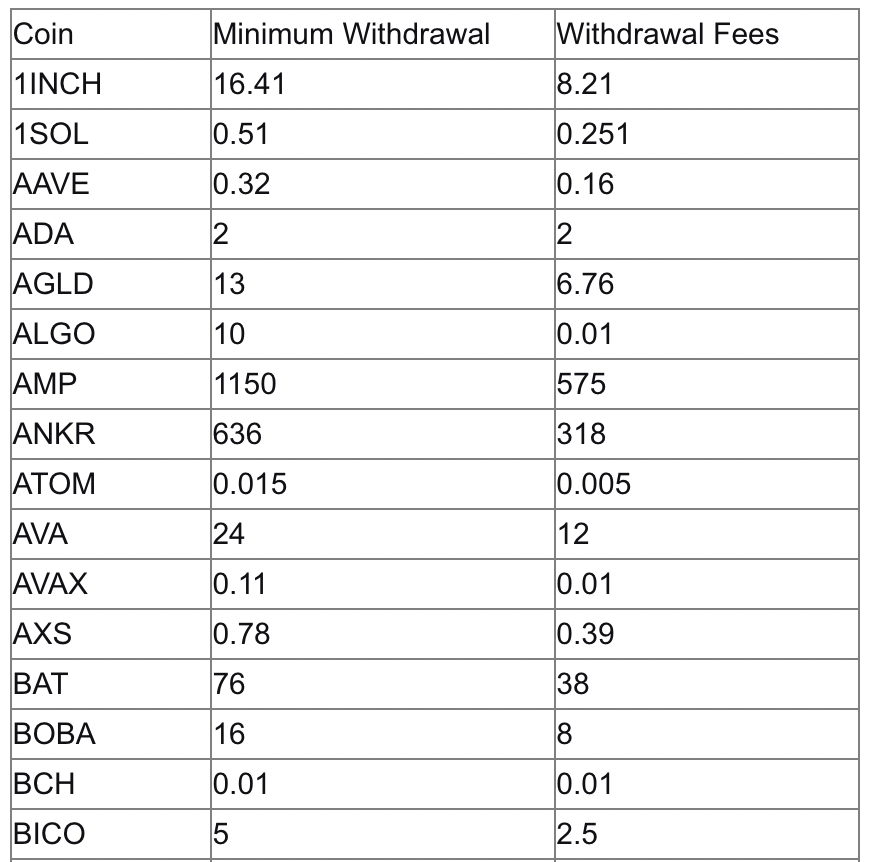 ---
Final Thoughts
ByBit is a really promising platform for active trading. For scalpers, it is attractive for small commissions. Also, ByBit has high liquidity, there are no delays in order execution. ByBit technical support is available 24/7.